Traditional Italian Mens' Clothing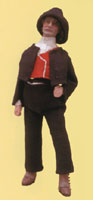 The typical men's dress in the Italian areas of Istria survived decades more than the norm. Up until the WWI the men from Dignano wore on work days and holidays clothing made from local wool, a light 'greiso' (griso) 43 or a heavier gurg?n depending on the season. The following description is based on Domenico Rismondo's notes compared to the statue from the museum of Rome 44.
The men's shirt 'cameisa' was made from hemp cloth or from linen and had a high collar which did up under the chin with a button made of thread. The front was decorated with a pleated vest. The simple cuffs were also done up with a button made of thread.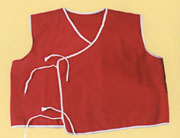 On top of the shirt was a sleeveless and collarless waistcoat, camisul?in. The sides of the waistcoat would criss-cross in front and tied with ribbon. On workdays the camisul?in was a brown wool but on holidays it was red (or later even black). The photo shows an example of one which is most likely a recreation from between the two World Wars. In the summertime on workdays the camisul?in was made of a cotton and hemp mix which was white in colour. There was another version of the waistcoat which was similar to the camisul?in but it had sleeves. It closed with buttons and buttonholes ?sole on the front and tightened at the wrists with clasps. It was made out of a brown-coloured (or later black-coloured) wool. A short jacket with sleeves 'curito' 45 was made from the same fabric and was worn on top of the camisul?in. It was collarless and buttoned with hooks with sleeves that had splits at the wrists. The pants were of a brown or black wool and went down to the calf. On the inseam was a slit that was 5-8 cm long. They were fastened by a band around the waist and tied at the back with a leather strap and decorated with coloured silk ribbons. At the front they were tied with leather straps with a double loop. More recently the pants were fitted with an open flap with a buttonhole in the middle and fastened on each end with hooks. The belt went under the flap and there was a button which inserted into the buttonhole. These pants were always lined with muslin musol?ina. They were worn without undergarments. Eventually the pants were lengthened to the ankle.